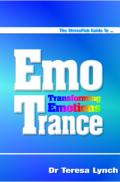 We are very pleased  to announce the immediate release of the 2nd book in our StressFish Guide to series...
The StressFish Guide to EmoTrance by Dr Teresa Lynch!
EmoTrance is a simple, elegant self-help tool designed to tranform emotions quickly. After all, stress is just an emotion, so using EmoTrance is a great way to de-stress.