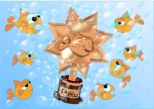 Here are two lists of the top stress tips on StressFish.com
One list is which stress tips are the most visited; this is in the hands of the search engines, mostly.
The second list are the top stress tips according to the StressFish. As the StressFish knows a lot about stress, in fact you might call him a bit of a stress expert, the second list is recommended highly.